Quick tips on hair for the summer
When wanting to grow out your bangs, a quick trick to get them to stay back is to part them in the middle and use some pomade to roll them up to the side of your face and then pin them back. 
If you want to do a couple little braids in your hair but you don't want to use ugly elastics or one of those invisible elastics that don't really work, use some pomade on the end of the braid to make it stay.  Just rub a little in your fingertips and then apply. 
If you are wanting to sleep in braids so that your hair is wavy the next day either use some moose for a more wavy look or use gel if you would like a bit of a crunchier look.
If you are lucky enough to have a little wave in your hair, when it's wet just put some hair shiner in it, a little frizz controller and either let it dry naturally, or if you are like me and every piece goes every where unless you give it a little help just simply turn the blow dryer on low or use a diffuser to make it look like beach waves.  Just keep crunching your hair to make the curls want to form.
If you do straighten your hair everday, give it a little bit of a break for the summer because it looks great if your hair looks like you just got out of bed, as long as it's pretty.  You want to look like you just came from the beach.
If you are blonde and you would like your hair to be a little blonder without dying it,  just get some lemon juice in a squirt bottle and put some in your hair before you go out in the sun.  Don't over do it though because I used it on my hair too much and it went a little green after doing it for the whole summer.  Yikes!!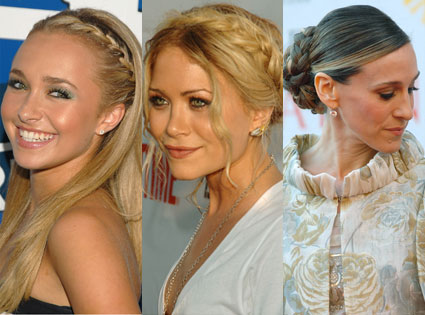 Image taken from www.eonline.com